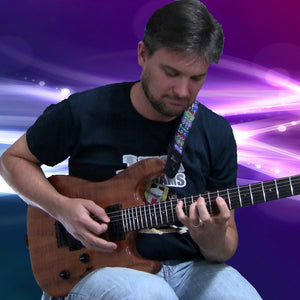 Streams of Consciousness
This lesson focuses on the chapters covered in the FIT video called Zigzag Rolling Shifts and Diagonal Rolling shifts but takes you even further in creating new ideas. This is one of my most requested topics. This methodical approach shows you how to create motifs and sequence them through the harmony. You'll also learn how to create odd groupings over even time and displace accents. This is a device used by top the improvisers. In this video I use dual camera angles and split screens so you can see both hands clearly in action. This video includes transcriptions in the Guitar Pro and PDF formats. The video run time is approximately 28 minutes. Please forgive the video quality. This video was taken from a live streaming webinar broadcast but the content was good and I wanted to be able to share it with you. Enjoy!
All examples are transcribed in tab and standard notation. These will be included in the Guitar Pro and PDF formats. Keep in mind I only offer customer service and support to customers who buy my products from me or authorized vendors.
About your Instructor