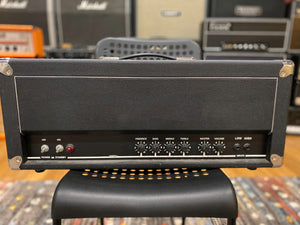 Softek Fig 100 - Kemper Profiles
"Softek" Fig100
I have had this amp for ages, and was one of the early amps in my collection after I became a music producer and built my own studio.  My friend Dave Onorato suggested I look into getting one and I happened to get a good deal on a used one from Ebay.  This thing is built like a tank…Super solid construction and heavy as F$%#!  Plug it in and it's got this great creamy 6L6 distortion on the high channel that is more on the dark and heavy side, just like the Russian winters.  No wonder it's great for doom metal!  The low channel isn't really clean either because even at low gain, it has got a little crunch.  The cleans you do get out of it are really clear and bell-like.  The EQ on this thing is pretty versatile and responsive as well and I found myself using it to double up my main pair of rhythm guitars a lot and adding just a touch of top end to brighten it.  It really became my secret weapon for getting a huge guitar sound.  It's hard to find one in this good of shape anymore so I lucked out!  All the bands I worked with always wanted to check it out when they saw it.  
 As far as the Kemper profiles, there are 50 in total that run the gambit of clean to crunch to heavy to full distortion over the two channels.  We even created a few extras in the vein of what I would use in a session, like leads and fuzz tones.  All of these are profiled between two of my favorite cabinet speakers… a 25w greenback cab and a V30 cab. The greenbacks help to brighten up the tone and the V30s keep it just a little warmer, allowing you to get the tone you need. I do wish I had the cab that went with it but certainly what I have with it sounds great!  Again, we kept these profiles leaning more towards the original tone of the amp without much EQ hype.  This is another amp that you just don't see profiled properly and I am happy to bring it to you to expand your own amp collection.  BTW, our good friend Chris Green from the band Tyketto played all the soundclips.  We thought it was time to bring in a pro and he really did a great job!  Check Chris out on Youtube.
---------------
These profiles can be used with both single-coil and humbucker pickups.  You may find that you need to lower the Clean and Distortion Sens on your Kemper unit for higher-gain pickups and to achieve the original input and tone of the amp when profiled.  Also, every guitar sounds different so feel free to tweak the EQ and amp module Definition to taste.    
Samples:
Softek_Clean_Chorus_Ibanez
Softek_Fuzz_Vibe
Softek_Picking
Softek_Clean_Chorus_PRS
Softek_Full_3_V30
Softek_Heavy_5_25wGB
Softek_Hopeful_Space
Softek_Heavy_3_V30
Softek_Clean_2_25wGB
Softek_Crunch_3_V30
Softek_Heavy_5_V30
Files included:
Softek Breakup V30.krig
Softek Clean 1 25wGB.krig
Softek Clean 1 V30.krig
Softek Clean 2 25wGB.krig
Softek Clean 2 V30.krig
Softek Clean 3 25wGB.krig
Softek Clean 3 V30.krig
Softek Clean 4 25wGB.krig
Softek Clean Chorus.krig
Softek Crunch 1 25wGB.krig
Softek Crunch 1 V30.krig
Softek Crunch 2 25wGB.krig
Softek Crunch 2 V30.krig
Softek Crunch 3 25wGB.krig
Softek Crunch 3 V30.krig
Softek Crunch 4 25wGB.krig
Softek Crunch 4 V30.krig
Softek Crunch 5 25wGB.krig
Softek Crunch 5 V30.krig
Softek Crunch 6 25GB.krig
Softek Crunch 6 V30.krig
Softek Crunch 7 25GB.krig
Softek Crunch 7 V30.krig
Softek Full 1 25wGB.krig
Softek Full 1 V30.krig
Softek Full 2 25wGB.krig
Softek Full 2 V30.krig
Softek Full 3 25wGB.krig
Softek Full 3 V30.krig
Softek Full 4 25wGB.krig
Softek Full 4 V30.krig
Softek Full Lead.krig
Softek Fuzz Vibe.krig
Softek Heavy 1 25wGB.krig
Softek Heavy 1 V30.krig
Softek Heavy 2 25wGB.krig
Softek Heavy 2 V30.krig
Softek Heavy 3 25wGB.krig
Softek Heavy 3 V30.krig
Softek Heavy 4 25wGB.krig
Softek Heavy 4 V30.krig
Softek Heavy 5 25wGB.krig
Softek Heavy 5 V30.krig
Softek Heavy Lead.krig
Softek Hopeful Space.krig
Softek Long Verb.krig
Softek Picking.krig
Softek Scooped Lite Gain.krig
Softek Small Radio.krig