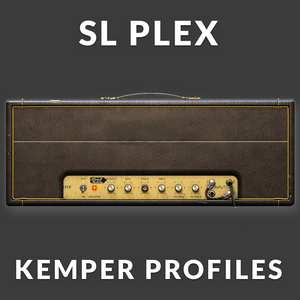 SL Plex - Kemper Profiles
Samples:
FUZZSAW 25WGB
FUZZSAW V30
SL PLEX CRYSTAL PAD
SL PLEXI 2 25WGB
SL PLEXI BLUES
SL PLEXI LEAD 1
Description:
This amp has always been a favorite of ours and our clients here at the studio. It is an EL-34 high gain amp with a very responsive EQ section; Make no mistake… there are no clean profiles because it just doesnt get clean! This was the first amp I had modded to add some beef and midrange. The pack has 14 profiles that all begin with just the raw amp and no EQ or FX, profiled through both 25W greenback and vintage 30 speakers. Profiles 1-3 are just increasing levels of gain, and profiles 4 with the fuzz saw has a fuzz pedal on the front end, which gives it endless sustain and a killer tone that we would often use for doubling up on chorus rhythms. Profiles 3 are also EQed by myself to fit well into your mixes and give them the right amount of definition. Included are also a couple screaming lead tones with delay for both humbucker and single coil guitars as well as 2 lower-gain blues tones. Finally, there are a couple of special FX delay and reverb tones that you can really get some inspiration from.
This is my favorite pack we have profiled so far and I think you will love it as well!
Files included:
SL Plex 1 25wGB.kipr
SL Plex 1 V30.kipr
SL Plex 2 25wGB.kipr
SL Plex 2 V30.kipr
SL Plex 3 25wGB RB EQ.kipr
SL Plex 3 V30 RB EQ.kipr
SL Plex 4 25wGB RB Fuzzsaw.kipr
SL Plex 4 V30 RB Fuzzsaw.kipr
SL Plex Blues V30.kipr
SL Plex Crystal Pad.kipr
SL Plex Lead 1.kipr
SL Plex Lead Delays.kipr
SL Plex Tele Blues.kipr
SL Plex Tele Lead.kipr