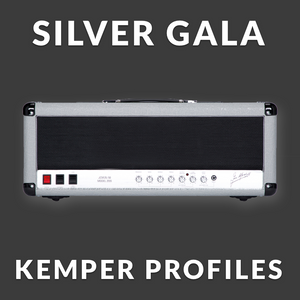 Silver Gala - Kemper Profiles
Samples:
GALA 1 V30
GALA 3 25wGB RB
GALA 3 V30
GALA 4 25wGB RB
GALA 4 V30 RB
GALA FUZZ OCTAVE
GALA LEAD SOLO
GALA METAL
Description:
This little amp is a rocker, even at 20 watts! Slash's amp of choice for a while and the perfect AC/DC amp. Rick used it on his "Back In Black" video and got some amazing tones from it as well. With the EL-34 power tubes, it goes from some wonderful clean tones to balls-out rock, all of which is included here with a combination of both vintage 30 and 25 watt greenback speaker cabs. There are 9 clean profiles and 13 distorted ones, with some special FX profiles included like using the auto-wah and a fuzz octave. Of course, these profiles cover the gain spectrum and you can add whatever effects you want as they are a perfect jumping off point to creating your favorite sounds. Especially with this amp, we wanted to make sure we captured the essence of the natural amp without hyping it up with EQ and fx, allowing you to take these profiles one step further.

For classic and modern rock lovers, this is one pack you don't want to miss!
Files included:
Clean:
Gala Aftershock.kipr
Gala Clean 1 25wGB.kipr
Gala Clean 1 V30.kipr
Gala Clean 2 25wGB.kipr
Gala Clean 2 V30.kipr
Gala Clean 3 25wGB RB.kipr
Gala Clean 3 V30 RB.kipr
Gala Clean Chorus.kipr
Gala RB Clean.kipr
Distorted:
Gala 1 25wGB.kipr
Gala 1 V30.kipr
Gala 2 25wGB.kipr
Gala 2 V30.kipr
Gala 3 25wGB RB.kipr
Gala 3 V30.kipr
Gala 4 25wGB RB.kipr
Gala 4 V30 RB.kipr
Gala 70's Autowah.kipr
Gala Classic Rock.kipr
Gala Fuzz Octave.kipr
Gala Lead Solo.kipr
Gala Metal.kipr