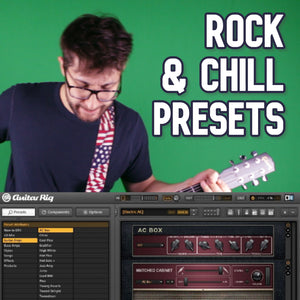 Rock & Chill Presets - Guitar Rig
23 Presets of my favorite Guitar Rig Amps which I used all over my covers and original songs.
You will find the heaviest riffers settings and mellow tremolo goodies to rock and chill with your friends and loved ones!
This is a great way to support my channel and my music! Give it a strum!
Sample:
NB Bellow Mellow
NB Clean Stratosphere
NB Jump DelayMan
NB Jump Octave Dog 2
NB Shamisen
NB VAC BOX That Girl
NB VAN 51 Heavy
NB Vibrato Chords
NB Vibrato Sweet
NB 800 Fight
NB 800 Heavy Delay Rev
NB 800 Martyr
NB Beasty Monster Jump
NB Interesting Tremolo
NB Vibrino Clean
NB Vibrino Crunch
Files included:
NB Bellow Mellow.ngrr
NB Clean Stratosphere.ngrr
NB Jump DelayMan.ngrr
NB Jump Octave Dog 2.ngrr
NB Shamisen.ngrr
NB VAC BOX That Girl.ngrr
NB VAN 51 Heavy.ngrr
NB Vibrato Chords.ngrr
NB Vibrato Sweet.ngrr
NB 800 Fight.ngrr
NB 800 Heavy Delay Rev.ngrr
NB 800 Martyr.ngrr
NB Beasty Monster Jump.ngrr
NB Interesting Tremolo.ngrr
NB Vibrino Clean.ngrr
NB Vibrino Crunch.ngrr