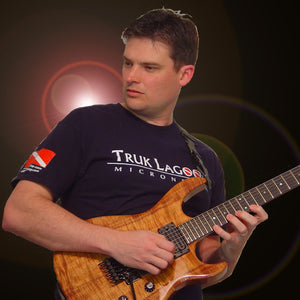 Outside Secrets 2
In this video I show you how to use passing tones, chromatics, and approach notes to spice up your solos and give more style and feel to your phrases. I also give you motifs that you can use to build your vocabulary and will help you in understanding and creating your own sophisticated lines. Lastly I show you some long lines to help jump start your improvisations and give you the insight into putting it altogether.
Each of the 50 licks and ideas are transcribed in the Power Tab and PDF format which is included on the DVD.
All examples are transcribed in tab and standard notation. These will be included in the Guitar Pro, Power Tab, and PDF formats. Keep in mind I only offer customer service and support to customers who buy my products from me or authorized vendors.
About your Instructor
Watch Promo: