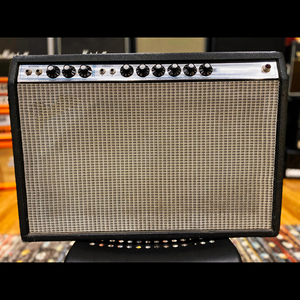 FDR - Kemper Profiles
FDR Anthemic Solo
FDR Clean 2
FDR Clean 5
FDR Crunch 3
FDR Crunch 5
FDR Crunch 7 Boost
FDR Crunch 12
FDR Crunch 14_Boost RB
FDR Crunch 15 Drive RB
FDR Radio Daze
Description:
Fender Deluxe Reverb (Late '70s with Blackface Mod)

This is one of my favorite and most versatile amps that I own for unique sounds, as well as being one of the most sought after Fender amps in general.  At 22 watts, it has a combination of 12ax7 preamp tubes with 6V6GT power tubes, all going to a 12" Utah speaker.  It of course has that classic fender chime with the clean settings but gets some really great bluesy distortion tones as well that can be used to add distinct sounds to your live or studio gigs.  Originally, my friend Jack brought this amp over to the studio years ago to try out on a song and after micing it up, I just had to have it so I bought it right then and there from him.  Since then, it's been used on countless productions of mine and was often a go-to amp when clean parts were needed.  I'm not sure what year this is as Jack wasn't aware but I suspect late 70's.  Probably because of this, Jack had the blackface mod installed, which adheres to the original blackface specs and makes this amp sing!  
In this pack are 28 profiles ranging from clean tones to basic crunch and distortions, to cool solo, lofi, chorus, and univibe effects. A few of the profiles include a DM Boost/Drive pedal as well for extra gain. A single coil pickup was used to profile most of these but they should sound great through your humbuckers as well (you might need to turn the Input Sens volume down depending on the hotness of your hum bucker). I am so happy to have this amp finally profiled and these Fender amp tones will be a great addition to your Kemper arsenal!

Files included:


FDR Anthemic Solo.kipr
FDR Clean 1.kipr
FDR Clean 2.kipr
FDR Clean 3.kipr
FDR Clean 4.kipr
FDR Clean 5.kipr
FDR Clean 6.kipr
FDR Clean Chorus.kipr
FDR Clean Vibrato.kipr
FDR Crunch 1.kipr
FDR Crunch 2.kipr
FDR Crunch 3.kipr
FDR Crunch 4.kipr
FDR Crunch 5.kipr
FDR Crunch 6 Boost.kipr
FDR Crunch 7.kipr
FDR Crunch 9.kipr
FDR Crunch 10.kipr
FDR Crunch 11.kipr
FDR Crunch 12.kipr
FDR Crunch 13.kipr
FDR Crunch 14 Boost RB.kipr
FDR Crunch 15 Drive RB.kipr
FDR Dirty Vibrato.kipr
FDR Lofi Crunch.kipr
FDR Radio Daze.kipr
FDR Uni Solo.kipr