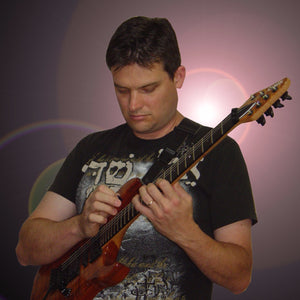 Creative Tapping Techniques
In this one hour video I will share with you an exciting and creative approach to tapping. This approach is fairly easy to master and allows you to use two of your fingers on your picking hand while still holding the pick ! I'll also show you 50 of my coolest sounding tapping ideas for you to explore and use in creating your own over the top solos. Each lick can be accessed via the interactive menus. The ideas start out at a basic level and go all the way to some of the most extreme and unbelievable sounding licks you have ever heard. So grab your guitar and get ready to tap your way into some exciting new territory!
All examples are transcribed in tab and standard notation. These will be included in the Guitar Pro, Power Tab, and PDF formats. Keep in mind I only offer customer service and support to customers who buy my products from me or authorized vendors.
About your Instructor
Watch Promo: