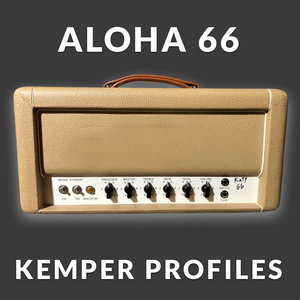 Aloha 66 - Kemper Profiles
Samples:
ALOHA BLUES 25WGB
ALOHA CLEANS 3 V30
ALOHA HIGH 1 V30
ALOHA BLUES V30
ALOHA LIGHT GAIN V30
ALOHA HIGH 2 25WGB
ALOHA HIGH 2 V30
ALOHA CHORUS RHYTHM
ALOHA CLEAN 3 25WGB LP
ALOHA HIGH 6 V30 LP
ALOHA LEAD SOLO
Description:
Not many people know about this hardwired boutique amp but it's one of those sleepers that when our clients would wonder what it was and try it out, they would want to use it on everything! This 50 watt amp powered by 12ax7 preamp tubes and KT-66 power tubes, it is so versatile being able to go from super glassy cleans to a great low-gain edge of breakup sound, and finally to a heavy balls-out tone. The attack gets punchy too! For a dual-channel boutique amp, it really has character and does it all. We used this one on a lot of records over the years and it's definitely a go-to for us.

We are again using the vibrant 25watt greenback cabinet as well as the vintage 30 cabinet which gives it a warmer, darker tone. Both are great and used for different purposes as you will find. Like the other packs, we wanted to capture the essence of the Aloha without adding any hype EQ. We did take down a little low end in a few profiles since this amp has a lot of bass but feel free to add it back in on the Kemper.

Included are 26 profiles, 18 of which are just the amp itself without FX, including 6 profiles on the clean channel. Keep in mind that the clean channel still gets gainey and the actual clean profiles are labeled "Aloha Clean 1" (The rest of the profiles show increasing gain on the high channel as the numbers get higher). Definitely try the higher clean profiles and turn the gain down on the Kemper. Then we have included 8 profiles created with distortion, FX, and EQ, that will hopefully be a good complement to your recording or live needs. These profiles are also great for tweaking to your style! We absolutely love this amp and we hope you do as well!
Files included:
Aloha Blues 25wGB.kipr
Aloha Blues V30.kipr
Aloha Chorus Rhythm.kipr
Aloha Clean 1 25wGB.kipr
Aloha Clean 1 V30.kipr
Aloha Clean 2 25wGB.kipr
Aloha Clean 2 V30.kipr
Aloha Clean 3 25wGB.kipr
Aloha Clean 3 V30.kipr
Aloha High 1 25wGB.kipr
Aloha High 1 V30.kipr
Aloha High 2 25wGB.kipr
Aloha High 2 V30.kipr
Aloha High 3 25wGB.kipr
Aloha High 3 V30.kipr
Aloha High 4 25wGB.kipr
Aloha High 4 V30.kipr
Aloha High 5 25wGB.kipr
Aloha High 5 V30.kipr
Aloha High 6 LP 25wGB.kipr
Aloha High 6 LP V30.kipr
Aloha Lead Solo.kipr
Aloha Light Gain V30.kipr
Aloha Tremolo V30.kipr
Aloha Warm Fuzz.kipr