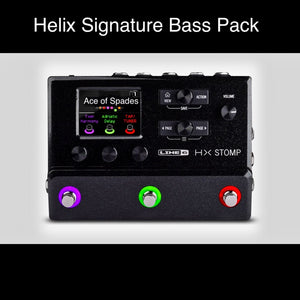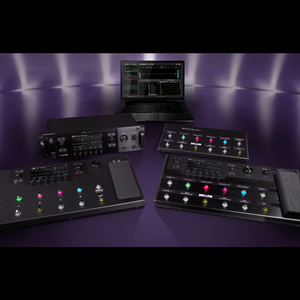 Rick Beato — Helix Signature Bass Pack
Samples:
Blink Bass
Ace of Spades
Synchronicity
Rage
Simple Boy
Green Day Bass
Would
Quarterback
Rick Beato Line 6 Signature Bass Presets
This Helix pack aims to reproduce some of my favorite bass tones by the best bass players out there.  If you saw my Top 20 Rock Bass Sounds of All Time video (https://youtu.be/H0P5isBr7uw), then you will understand why I wanted to make this Helix pack.  I have included tones by Lemmy from Motorhead, Greenday, Tool, Blink 182, Chris Squire, Sting, Geddy Lee, Rage Against the Machine, and a few more.  Playing along to your favorite artist's songs will be a lot of fun with these presets but they can also be used in your own recordings, as they are ready for tracking.  
This pack contains 13 bass presets that cover clean through very distorted tones.  Like my regular bass profile pack, there are both passive and active bass presets but keep in mind that they wont sound as intended if you aren't using the correct type of pickups.  Meaning… use an active bass with the active presets and vice verse.  I have included a list of the preset types as being either active or passive.    
This pack is compatible for all Line 6 Helix devices, although there is a separate folder for Helix Stomp users.  The presets were originally created using the Helix Native plugin and as a result, some profiles have more than the 6 modules that the Stomp allows.  This means that the Stomp preset might be missing a compressor or volume pedal in line but overall, that wont affect the main tone.  In total, there are 12 Helix Stomp profiles as one just could not be reproduced faithfully from the original preset using only 6 modules.  

Have fun with these presets and when you are done noodling, take a listen to my main Line 6 Helix Bass Presets pack.  These two packs really cover the gambit of any bass tone you could need.  


(Unless noted, all presets are only using stock impulse responses since custom IRs wont remain linked to the profile.  Also, for most presets, I left the other snapshots open for the user to tweak, customize, and save without disturbing the original presets.  You will see that EQ has been added to each preset when needed to help simulate the top and low end of the real amps and how I am used to hearing them.)

  (These presets were designed using the Line 6 Helix Native plug-in and then recreated in the HX editor for Stomp versions.  Make sure to have the most updated version of HX Edit/Firmware for your Helix device.)


Profiles

Passive Pickups:
Blink Bass (Blink 182), Greenday Bass, Ace of Spades (Motorhead), Would? (Alice in Chains), Synchronicity (The Police/Sting), Rage (Rage Against the Machine), Ramble On (Led Zeppelin), Tom Sawyer (Rush/Geddy Lee), Squire (Yes/Chris Squire), and Kings X (Doug Pinnick) 


Active Pickups:
Simple Boy (Karnivool), Quarterback (Nickelback), Schism (Tool)
Files included:
RB Ace of Spades.hlx
RB Blink Bass.hlx
RB Greenday Bass.hlx
RB Kings X.hlx
RB Quarterback.hlx
RB Rage.hlx
RB Ramble On.hlx
RB Schism.hlx
RB Simple Boy .hlx
RB Squire.hlx
RB Syncronicity.hlx
RB Tom Sawyer.hlx
RB Would?.hlx