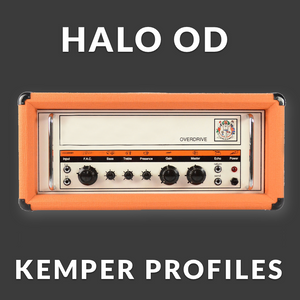 Halo OD - Kemper Profiles
Samples:
HALO OD 3 THIN 25WGB
HALO OD 5 FAT V30
HALO OD BREAKING UP
HALO OD BRIT SOLO
HALO OD CLEAN DELAY
HALO OD LOW 7 25WGB
HALO OS 7 25WGB EQ
Description:
Previously owned by legendary producer Brendan O'Brian, this amp has some serious character and you know it has been used on some classic albums! Stone Temple Pilots specifically used it on the No.4 album. Using EL-34 power tubes, this amp has a fantastic sound with a tight low end and creamy but focused midrange. Total classic british rock sounds here! This pack has 25 profiles, through both an Orange Vintage 30 cabinet and a 25 watt greenback cab. Of course the Orange cab pairs nicely with the Halo amp but you make the call. This amp also has the mysterious FAC button, which really controls the fatness of the sound and we have profiled these sounds with the knob super fat, very thin, and up the middle. And as always, different gain stages are represented here. Finally, we have also included some very usable fx profiles with delays, reverbs, chorus, and rotary effects that we think you will love.

Whether you are a big fan of the classic british guitar tones or just want to rock out with some great tones, this is a fantastic pack to have in your Kemper arsenal!
Files included:
Halo OD 1 25wGB.kipr
Halo OD 1 V30.kipr
Halo OD 2 Fat 25wGB.kipr
Halo OD 2 Fat V30.kipr
Halo OD 3 Thin 25wGB.kipr
Halo OD 3 Thin V30.kipr
Halo OD 4 25wGB.kipr
Halo OD 4 V30.kipr
Halo OD 5 Fat 25wGB.kipr
Halo OD 5 Fat V30.kipr
Halo OD 6 Thin 25wGB.kipr
Halo OD 6 Thin V30.kipr
Halo OD 7 25wGB EQ.kipr
Halo OD 7 V30 EQ.kipr
Halo OD Breaking Up.kipr
Halo OD Brit-Solo.kipr
Halo OD Clean Chorus.kipr
Halo OD Clean Delay.kipr
Halo OD Ethereal.kipr
Halo OD Light Indie Rock.kipr
Halo OD Low 1 25wGB.kipr
Halo OD Low 2 Fat 25wGB.kipr
Halo OD Low 3 Thin 25wGB.kipr
Halo OD Low 7 25wGB EQ.kipr
Halo OD Rotary Vibe.kipr