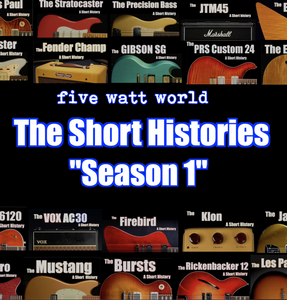 The Short Histories — Season 1
Launch special: Use code LAUNCH30 for 30% off at checkout. (Get it for $55.30). Limited time only. 
For the past couple of years people have been asking if I would make the Short History videos available to buy, without the advertising, maybe add short special features…well, I've finally pulled it together and am delighted to tell you that all of what I am calling "Season 1" and made them available for purchase.
Season 1 includes the first two years of Short Histories, 31 videos, over 18 hours of the history of your favorite gear. The Telecaster, the Les Paul, the Stratocaster, the Precision bass, and the Jazz bass; The Marshall JTM45, Vox AC30 and Fender Deluxe are all in here along with 23 other histories of famous musical gear.
In addition I've recorded Short Special Features to go with each video.  Things I learned after the videos were released, personal stories of my experience with the gear and stories that came to me from you, the members of five watt world.
Purchasing will help fund the next "season" of Short Histories to come.  Thanks in advance for your support and most importantly, thanks for being a part of five watt world.
Watch Promo: