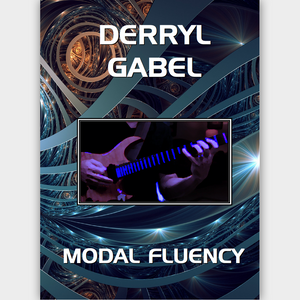 Modal Fluency
In this epic two hour course I'll teach you a new way to learn the modes, intervals, and arpeggios of the major scale. Next we will apply a three position fingering approach that will totally unlock the fingerboard like you've never seen before.  We'll also look at other fingerings such as three notes per string and even a three plus four approach ( think Allan Holdsworth ) all while keeping intervals in mind which  will help you play the best notes.
Additionally I'll teach you what I call exclusive modal voicings and modal progressions used by the pros.
This course includes on screen neck diagrams and tab so no looking through files for things, it's all laid out in front of you for easy learning.
At the heart of the course is a workout section so you can practice right along with me while building your fretboard knowledge and training your ear.
If you are serious about becoming a better musician and guitarist this course is for you. 
It doesn't matter what style you play.  Utilizing the concepts presented in this course will add a whole new dimension to your playing and the way you see the fretboard guaranteed!
Included with the course is backing tracks, transcriptions in the Sound Slice, Guitar Pro, and PDF formats as well as neck diagrams.
So what are waiting for?  Let's do this!
Watch Promo: