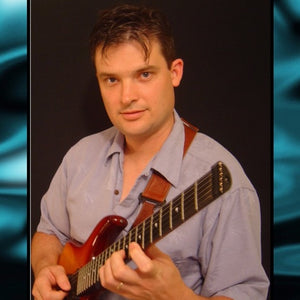 Pentatonic Passages
In this session I focus in on showing you how to use alternate, economy, and sweep picking to blaze all over the fret board using very interesting and exciting pentatonic ideas.
By learning and understanding these concepts you can also apply them to scales, arpeggios, hybrids, and heptatonic ideas shown in CLP 1 and 2. Are those legato runs not working so good when you pick up the acoustic guitar? No problem. If you're ready to take your solos to the next level this is what you need.
Fans of Shawn Lane, Frank Gambale, John McLaughlin, and Eric Johnson will dig this DVD.
All examples are transcribed in tab and standard notation. These will be included with the video in the Guitar Pro, Power Tab, and PDF formats. Keep in mind I only offer customer service and support to customers who buy my products from me or authorized vendors.
About your Instructor
Watch Promo: